Electronics are sensitive for heat and high temperatures. The higher temps the less efficiency you get out of the PSU.
And now we are talking about Chinese middle class quality the temperatures are more important than ever.
Here is my solution to this problem. Tilt the PSU 90 degrees, so the fan in the PSU grabs air from the ambient temp in your room, instead of breathing the heated air inside the machine.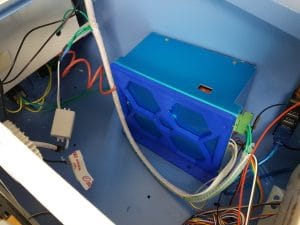 My example using a 3D-printed bracket to bolt the PSU tilted.
You can also use double sided tape if you do not own a 3D printer, just make sure you add a extra ground wire from the chassis to one of the bolts on the casing of the PSU.
Here is the link to the 3D-printed bracket on Thingiverse
I have done some extensive testing about this.
I just added some lines and let the machine run for 10 minutes, between every test the machine was resting and i was waiting for the water temp to reset to 19c.
I was checking the power output and the temperatures inside the PSU.
I have the digital version of the K40, i was using the same %-value in power every test, never touched the settings.
Test with the PSU inside the machine
Test 1: 64c – 14.4mA
Test 2: 65c – 13.7mA
Test 3: 64c – 14.2mA
Test 4: 64c – 14.4mA
Test 5: 65c – 14.0mA
Test with the PSU breathing ambient temps
Test 1: 34c – 16.2mA
Test 2: 34c – 16.4mA
Test 3: 33c – 16.8mA
Test 4: 33c – 16.6mA
Test 5: 34c – 16.2mA

Digging up the strange ideas and convert them into useful tools and addons for the lasers.
Latest posts by HP Persson (see all)