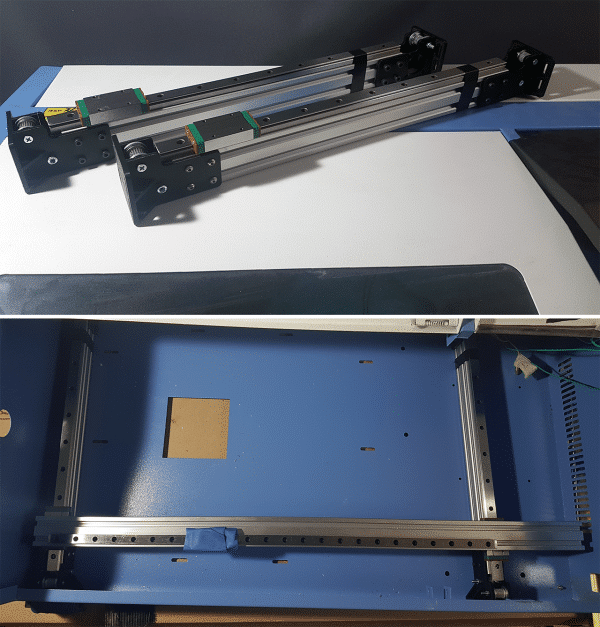 K40 expansion DIY kit – in developement
€ 0.00
Upgraded and wider gantry to fit inside your k40 machine – up to 400x700mm
Description
Reviews (0)
Do you have a question?
Description
Price is currently set to 0 – it´s not calculated yet what the end price will be.
If you are interested in this kit – add your email to the waitlist, you will get a email when it´s in stock and priced! The waitlist is just a notification – not a pre-order!
Read this description before ordering!
This kit is NOT complete, you will still need some parts ordered locally or from china due to its weight.
Check out the list below "What you need" to complete your expansion project!
This gantry kit has no limits on size, you can do it 300×300, 300×600 or whatever you like, max size is 400×700 (to fit inside a K40 machine)
If you need bigger kit – contact me for details.
All parts are bagged and numbred and PDF instructions included how to set it up.
Choose if you want the 3D printed parts included, or only the file to print it yourself.
Included in this kit
– Belts and pulleys for a 400x700mm max expansion
– Gantry plates and holders (3D printed or alu)
– Mechanical or inductive end stops
– All bolts, nuts and washers needed.
– Motor brackets.
– MGN linear sliders for X and Y (choose length when ordering)
– 1st and 2nd mirror holders
What you need
– 2040 extruded aluminium pieces (2x500mm, 1x700mm or similar)
– Laser head from your old machine – or this one sold in our store
– Your original motors, or replacements. 2 or 3pcs  nema 17 depending if you want to run dual motors for the X gantry or not.
Do you have a question?