A sincere apology – and the road ahead
HP Persson
The latest months has been full of hard work, days starting at 5AM and ending at 2AM.
One problem in November caused ripple-effects far in to February.
Edited 2019-02-21: Since i wrote this article the support emails increased a bit – they will all be replied to before the weekend! Parcels are going out by the hundreds every day!
To all customers who have been affected in one way or another, with delayed deliveries, re-sent shipments or other problems with the orders – i´m truly sorry for your experience, and for you still having a issue or waiting – i will do everything in my power to fulfill your order the quickest way possible!
What happened
In November i started to get a high number of delayed and lost parcels, i noticed a increase of orders getting stuck at the Swedish distribution center before leaving the country.
A normal month there is less than 1% lost parcels, we have seen 15-18% up to January and it was rather strange with almost all lost and delayed parcels contained mirrors or electronic boards.
Our courier found out that parcels that got lost was doing this at similar time every day, it´s still a ongoing process with the Police but the information i got so far was that someone working at the X-ray department stole parcels that looked like they contained coins, money or expensive electronics. Lenses and mirrors with the special chemical coating looks like gold coins in a X-ray machine. Since January the amount of lost parcels has gone down to normal levels again.
This caused other problems, most parcels was sent again, was paid for one product, but sent two and paid shipping twice – and our courier wants 90 days to investigate a complaint – which we have 162 of right now to a total value of 18000 Euros.
With the 18000 Euros in parcels being investigated, we shipped new products or refunded the customer which lead to 18000 Euro more to be spent, and at the same time missing double of the products from stock for other customers to buy.
This hit was really hard, as my store was very small with a median of 5000 Euro per month in sales, i had to take money from my own pocket to solve all problems, and even that wasn´t enough which led to more delays and a lot of refunds.
At the same time the store exploded, from 40-50 orders per month to 500 over the time of November and December – i spent every day packing parcels and tried to keep up with the increasing amount of problems.
Cash flow went up – and expenses doubled at the same time for many orders which lead to less refill of parts, and more going out than in.



A small picture showing the order growth
What´s done to improve and prevent
I´m a single father with two kids on full time, one with ADHD/Autism which made me stay at home some days – or abort the work day and go to the school to pick up my kid when he had a bad day – which happens a lot.
I took the decision to move everything to my home so i could work, pack orders and do stuff no matter if i needed to be at home available for my children or not, which is why the store closed for three weeks late January, now i can still pack orders or work as usual even with kids at home on a regular work day.
---
New systems to keep track of orders, tasks and communication better – now we have everything in one place and a support request that took 10 minutes to dig up info about – now takes less than a minute.
---
Better inventory solutions, with automatic systems reading sales and orders to prevent us from going out of stock – this needs more time to learn the patterns but i´m sure it will help out in the future with less products out of stock than earlier.
---
Quicker solutions for packing orders, when a order is done the shipping is booked and ready in the printer every day – time from order print to a ready parcel has been cut in half.
---
More logic solutions to what is kept where on the shelf – easier to find with SKU numbers on the boxes and the packing is quicker than ever before. Still have some issues but it´s already so much better solution.
---
More parts in backup – if something needs to be shipped again there is always a buffert of parts for these happenings – if something has 10 in stock, only 7 are available in the store to prevent any problems if something needs to be replaced – this was one of the main problems earlier with me had to send replacements and then ran out of parts to new customers, or new customers got their parts but the replacement for a older order was out of stock – in both ways a customer had to wait and it´s unacceptable.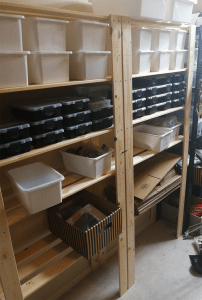 Parts, parts and parts – early picture while building the new parts-room at my home
Store support from now on
No more Facebook – this was key to save time and put the time where it solved issues quicker.
When i started the parts store it was easy to talk to customers on messenger but it quickly got out of hand with the increase of questions and discussions – in the beginning of February i had 170 unread messenger chats from site visitors, customers and users wanted information about products or help with their machine – it was just not possible to reply to them all – so i removed messenger from the phone completely.
Facebook is convenient for communication but for me it was really hard to remember who i spoke to, who said what, when and what the order contained or even what someone said. And keeping a note down on everything communicated to customers was a nightmare to keep track of as many users also sent a email – making me work double for the same question.
Most of the time when i was online on Facebook was at home where i didn´t have any information about orders made, shipped or their status at all.
From now on the only channel for discussions about previous orders or their status is through support@k40laser.se with emails replied to Monday to Friday.
Feel free to contact me on Facebook to discuss your laser machine, upgrades or tweaks you have done – love to see what you are doing!
The server containing the ticket system was damaged in the move from the old shop to the new location – tickets older than Feb. 4th is not recovered at the moment – they will be, but currently there will be quicker to just send a new email if you havent got a reply to a previous ticket.
I now have help with a friend to reply to tickets regarding order statuses and similar, so i can focus on the laser stuff.
The future
I have learned a great deal with the latest months experience – looking back it´s always easy to point on stuff and think it should be solved different that it was – but i think that would have been the issue no matter what approach i took at the time.
Analyzing the past 4-5 months there has been delays and problems for 30-40% of all orders which is at least a zero too much – totally unacceptable.
Today 90% of all orders are shipped within 24hrs – my goal is to ship 100% within the same day for orders made before 2pm and every day now is a step closer to reaching that goal.
A record was set Thursday with a order arriving at 13.43 and was packed and left at the sorting center 14.05 – this is the service i´m aiming on – for all orders!
February is so far the best month with least delays since September and with all the changes, new systems and help i´m sure this will even out very soon.
Something very new for the spring is a UK distribution location. We got the new company in place in the UK and now investigating a solution for our parts. This will allow for very quick delivery from the UK warehouse and with cheaper shipping to the customers in UK and Ireland.
The future is looking good and i can see the lights in the tunnel – and it´s not a train this time!
If you currently have a order waiting and want to cancel, change something or need information – send a email to support@k40laser.se – i always have and always will be accepting refunds and have done so for 100% of the requests.