More Potentiometer kits in the making
HP Persson
At the k40laser.se HQ, which is now at my home (more about that in another article) i occupied the kitchen table.
The most sold product if we don´t count optics, is the potentiometer upgrade kit.
This is on the table tonight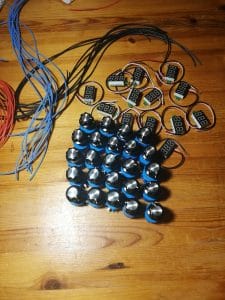 20 kits to be soldered tonight.
Last week with the store closed, the new opening is near and i´m aiming to have a clean support inbox and clean papers on pre-orders this week! Fingers crossed!
This blog post is more of a "what´s going on at the HQ" type of stuff, get a blink of insight of what´s going on "behind the beam" of the website and store.